Hyde Creek Currents - News Page
1st Egg Take of the Season - Chum eggs - October 29th
Fish Weigh - Coho Fry in Pond average weight of 11 grams - November 2nd
First Salmon Take of the season
Oct 18, 2019
Time to clean the egg room, get ready for the returning spawners, and remove fall leaves.
October 12, 2019
Another Hyde Creek log jam removed by members Mitch, Vlad and Shane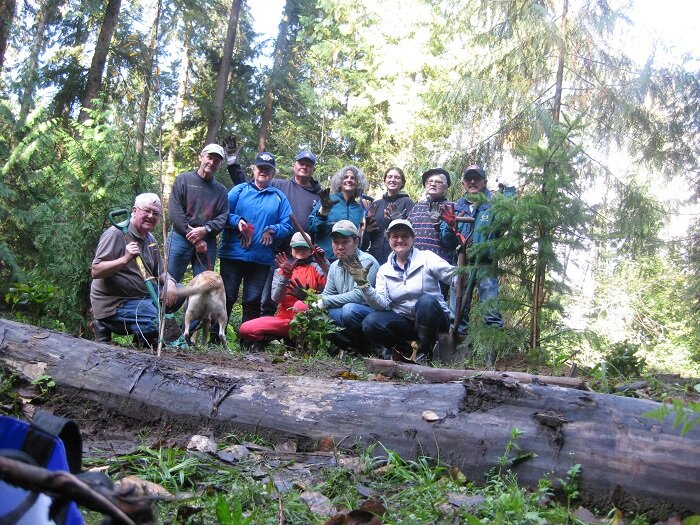 October 5
Thanks Ed, Shane, Helen, Mitch, Suzanne, Beatrice, Susan, Auni, Caryl, Joon, Linda
Monitoring Hyde Creek Rearing Pond
September 28
Members check this pond regularly and record information relating to depth, water temps and oxygen levels. And observe the coho fry and other "critters".
September 14, 2019
Members Joon, Shane, Mitch, Wally and Linda worked in the creek removing debris and log jams which impede the spawning salmon. Before and after photos of one of the large log jams.
Hyde Creek Pond Clean Out
September 5, 2019
Big thanks to the City of Port Coquitlam for removing 24 truck loads of sand and gravel that washed into Hyde Creek. Salmon will be returning to spawn Oct-Dec. Before and after photos.
August, 17th
33 members and guests attended a fun evening, warm weather and 2 cars from the Poco Car Show turned up as well.
July 27
Members enjoyed a great pot luck dinner and social evening. Its a nice change to meet in a relaxed setting !!
June 25
Big thank you to the Elks of Port Coquitlam for their kind donation which funded this project. Thank you to DFO, our Community Advisor Scott, and to all our members who put in many hours on this project. Pond is now complete - the coho fry are thriving in their new wet home.
June 15
The coho smolts have been released and pond is drained and cleaned to get ready for this year's coho fry.
June 15
Members dis-assemble our float, do some minor repairs and store it til next year.
June 13
HCWS members are working with DFO and the City of Port Coquitlam to restore a rearing pond built 20 years ago on Hyde Creek. The pond is mostly filled with silt. Some coho fry are still making this their home. There is water flow into this low area and restoration will help augment summer low water levels in Hyde Creek.
Coquitlam Teddy Bear Parade
June 9th
HCWS won a first place ribbon for our float.
Port Coq. Public Works Day
May 25th, 2019
Excellent event for viewing equipment and displays. HCWS attended and met many visitors. Thanks to Stella, Carol & Chavon.
May 13th, 2019
The warm dry weather is drying up parts of Hyde Creek. Members are out on many days moving fish from small ponds to larger pond areas or to DeBoville Slough.
Beaver Group Tours Hatchery
May 11th, 2019
Members joined the HCWS float in Port Coquitlam's May Day Parade.
May 9 and 13th, 2019
Coho smolts have been raised in the HCWS rearing pond for 18 months. It's time for them to travel to the ocean and return at 4 years old back to Hyde Creek as spawning salmon. Due to low water levels in Hyde Creek the smolts were trailered to DeBoville Slough area for release.
May 8 and 9, 2019
Members & visitors helped move the Coho fry from the HCWS hatchery to Partington and Smiling creeks.
Saturday, Work Party & Tours
April 27th, 2019
Visitor Dylan and HCWS member Caryl worked on the coho fry trough, cleaning the tanks and feeding the hungry fry. Outside member Joon removed deadfall from the rearing pond area.
Drop in any Saturday between 9:30 and 11:30 for an impromptu tour, and like Dylan you may find yourself helping out !
Hi Our names are Danica and Alisha from Kwayhquitlam Middle School. We recently did a Passion Project on recycling and the environment. We did a bottle drive in our neighbourhood to raise money for the Hyde Creek Watershed Society. Thank you for the work you do to help the environment and to take care of Hyde Creek.
HCWS members thank these two students for their kind donation and their hard work in recycling and taking care of the environment !!!
March 30, 2019
The coho fry in our rearing pond now average 15.4769 gms. Visitor from Australia helped with the weighing accompanied by his great uncle - HCWS member Cameron.
January 19, 2019
Last trays of Coho eggs were shocked. Chum eggs have begun the process of eyeing.
Smolt & Cutthroat spotting
Jan 14, 2019
In the lower part of the picture there is a school of about 200 coho smolts and right beside them in the middle of the picture is a school of about 24 16 - 18 inch cutthroat. Also observed was a lone coho spawner.
Thanks to Mitch for the spotting!
Dec 15
Carol and Victor help with weighing of the 1 year old Coho Fry from our rearing pond. Average weight is 11.08 grams
Flag pole repair by Shane, Auni, Vlad, Ed and Andy.
James Park School K/1 Classes
Hand made decorations for the HCWS Christmas Tree
December 8th, HCWS Members and Drifters Rod & Reel Club, shared a Christmas Pot Luck dinner.
November 24th
Last Coho Brood Stock take of the season. One coho spawner was an ocean coloured silver.
Nov 12 and 21
Eggs are collected and placed into heath trays for incubation.
Helen organized and participated in this survey which took place over 5 weeks. Thank you to Terry, Auni, Duncan and Shane (and pitch hitting from Mitch and Susan for one week) for their participation in observing chum and coho in various stretches of Hyde Creek. Subsequent year data will be necessary to collect to ensure that our data is accurate and has integrity.
Photo shows coho & chum in Hyde Creek pool in November.
Fry Sampling – will be planned for this coming Spring.
November 7th
Brood Stock salmon take. Using dip nets instead of seining net due to the large amount of coho in the pond. Estimate at 150+
November 3rd 2018
Salmon Brookstock Three female coho, and 3 male coho. 3 female chum and 2 male chum. One female chum was ready and 3,189 eggs were taken for incubation.
October 20th
Fish population= 14,997
Average weight of fish= 8.448 gms
Thank you to all our volunteers who came to help out with this on the weekend!
Sept 24th 2018
Thank you to the cubs who came out to mark some storm drains!
September 23
Three Hatchery Managers from China visited our facility. They spent the morning observing how our hatchery operates, and also viewed out education setting. Thank you to Matt Foy, retired DFO Biologist, who organized this, and to Scott Ducharme and Sandra Hollick-Kenyon of DFO who also attended. Chia Salmon Ngo has sponsored this trip for these hatchery managers to expose them to Canada Salmonid enhancement techniques and organizations.
Left- Managers and translator viewing our educational classroom and outside murals.
Learning abroad continued
Left- Scott (third from right) and Sandra (far right)
Below:
1: Managers are viewing one of Matt's Stories About Salmon People.. See our home page note on International Year of the Salmon. This link will take you to the stories. Story 9 Black Dragon Salmon is the one they are reviewing as it is in their region.
2: Terry working with Managers in the classroom
3:Some fishy educational fun
4: Matt Foy (2nd from right)
Sept 17th 2018
Thanks to the beavers that came out to mark local storm drains!

Sept 15
Creek pump installed on Saturday by Shane, Terry and Helen. Heavy rains and possible land disturbance added extra turbidity to the creek. Fortunately this cleared by mid afternoon.
Sept 8 2018
Thanks to the members and guests who came out to assist. Coho fry weight average is 7.8grams.
August 22, 2018
Members rescued salmon fry, trout and Lampray eels from Hyde Creek pond. City of Port Coquitlam removes excess sand from this vital pool. The fish were relocated to a pool downstream.
Aug 21, 2018
TriCities Church group worked with members Susan & Terry placing fish reminders on storm drains in Birchland area.
Over 30 years ago a backyard salmon project began, evolving into the Hyde Creek Stream-keepers. 2018 Hyde Creek Watershed Society celebrates its 17 Years as a Society. Thanks to Joon for culinary BBQ Pork, and to members & guests for their side dish contributions. A mini car show as members & guests arrived after Poco Car Show Parade.
August 11, 2018
HCWS joins with the Great Canadian Shoreline Cleanup. Volunteer visitors and members worked Sat. morning and collected 70 lbs of garbage along Hyde Creek Trails and in the creek bed. Kudos to our visitors who participated & to Starbucks on Prairie who donated wonderful coffee.
July 28, 2018
Auni, Ray, Wally, Shane.
1st Fish Weigh for our ponded coho fry averaging 4.6089 grams. Note Shane's swamped waders while netting the coho fry. Brent landscaping.
July 21st 2018
Wonderful evening full of food and friends. Thank you to everyone who made this a great event!
July 14th 2018
Wally, Vlad, Shane and Terry cleaned the aeration tower tanks. Brent was busy clearing out our front walkway.
July 21st 2018
Wally hanging bags of barley into the rearing pond. This will help to lower algae levels which deplete pond oxygen.
June 23, 2018
Clipped Coho fry were moved from the indoor trough tanks, outside to the rearing pond. Dam at the end of the pond was reinstalled, bubbler system in place and fry were transferred. Thanks to members who helped with the move.
June 22, 2018
The last of the unclipped Coho fry were moved to 3 locations in upper Hyde Creek area. The average weight of the fry was 2.686 grams.
June 19, 2018
The coho fry in our trough tanks had their adipose fin clipped to identify them as hatchery fish. Two 3 1/2 hour shifts were covered by members some working both shifts for a total of 24 members. Thanks to Tyler of DFO for training and helping.
Mitch and Ho Joon clipped the most fry !!
Thank you to all who came out. Big thank you to member Danny Brolese who donated pizza dinner to the members.
Visitors from Astoria in Port Coquitlam observed the fin clipping and toured the hatchery.
Pond Vacuum by City of Poco
June 18, 2018
Thank you Poco for your help!!
June 16, 2018
The Coho smolts have gone and the pond needs its annual clean out. Rescue the smolts who didn't get captured in the netting. Pumps working, pressure washers cleaning and the pond sludge is ready to be vacuumed out by the City of Poco's truck.
Coho Fry Moved into Watersheds
June 13, 2018
About 1/2 of the Coho Fry, incubated from eggs of 2017 Fall egg take, have been released into the surrounding watersheds. The remaining Coho will be clipped and will grow safely in our rearing pond until May of 2019 when they will be released as Smolts.
June 12, 2018
Remainder of smolts moved to DeBouville Slough by members.
June 11, 2018
8 members of RBC Bank came out to help us move Coho Smolts from the rearing pond to the DeBouville Slough. Big thank you to RBC.
Coquitlam Teddy Bear Parade
June 10, 2018
Good weather and our own HCWS Teddy Bear made for a great event. Thanks to everyone who came out and joined in.
May 19, 2018
Fish Rescue in place as dry weather leaves Hyde Creek with low water in some of the pool areas
May, 2018
Member Helen initiated a sampling report of fish in our local watersheds creeks. Duncan, Mitch and Shane worked with Helen on placement and retrieval of the traps. This information will form the baseline data for future trapping and reference.
May 19 2018
Fish weigh of the coho smolts which will be released into the creek and river system mid-June. The Smolts are averaging 13.63 grams.
May 15 2018
A preschool class from Kiddies Corner came for a tour and a visit to our hatchery and creek. They discovered cigarette butts, plastic bottles, cans, pizza box, sweater, fish net, plastic cups straws, lots of paper and more plastic cups and pieces in the creek and at the sides. The children's parents agreed to shorten their tour time and pitch in to help load out the trash. This particular spot has recently been damaged and littered by people hanging out here during the day.
Our Society would like to thank all the trail walkers of Hyde Creek who carry along garbage pickers and bags and help keep our trails clean. We would also like to thank the helpful students and young people who, working on their own, pick up many items along the creek edges. Today we'd especially like to thank the 3-5 year olds.
May 12, 2018
Members joined in the Port Coquitlam parade with our float and also our new fish transport trailer and tank. Bill (photo below) was instrumental in designing and building our Hatchery Float.
May 5, 2018
Members Anne, Wally and Vicki taking a break from outside cleanup, Andy, Duncan, Mitch & Auni working on our new tent, 4 visitors from Norway toured our hatchery, and members also worked on setting up the HCWS May Day float.
May 5, 2018
Thank you to John Sherry and Dennis retired BC Hydro employees for delivering a donation cheque, in memory of member Clara Brolese.
April 26 & 28, 2018
With the release of all the Chum fry into Hyde Creek, their tank has been cleaned and refilled. Coho fry were moved into the 3 tanks. Shane, Duncan, Mitch, Paula, Auni, Ho-Joon.
April 24th 2018
Releasing some chum fry on a gorgeous day. Thanks to all our volunteers to came to help out! Ho-Joon and Annie.
Open House & Salmon Release
April 21 2018
Annual HCWS Open House. Crafts, fish and fun!
See Salmon Release page for more photos
April 20th 2018
Terry winning the Port Coquitlam Environmental Award on April 20th. Thank you Terry for all your hard work!
April 19th 2018
Children up to 5 or 6 years old attend with their parents to focus on community support and activities.
April 13 2018
Wesbild invited our members to tour their new on-site storm water retention and treatment system now installed and operational. This system is replacing the previous method of excavating and constructing a large sediment pond into the hill side. Shane, Helen, Mitch, Ray, Ed, Jean
March, 2018
Member Mitch found a 2 headed Coho fry.
March 17, 2018
Approximately 300 Coho have grown big and are almost the same size as fish in hatchery pond now. There's also about a dozen 10-12 inch cutthroat trout swimming amongst them.
First of the Coho ponded into the cap troughs
Big thanks to HCWS member Brent. He did a fantastic job clearing away outdoor organic debris


March 10th 2018
Fish weigh done on a gorgeous day today. Andy, Helen, Brad
Current weight of Coho in pond is now 13.63 g
January 27th 2018
Chum eggs have started to hatch, and are now reaching the next part of their lives as alevin. These little guys are newly spawned salmon, which still carry the yoke on them for feeding.
Coho egg shocking is now all done. This is the process where Coho eggs are dropped into another container, agitating them just enough to turn infertile eggs white, separating them from the rest of the batch.
Lastly, pond fish were weighed on Saturday, they average 11.1 grams and are now 13 months old. Mitch collecting fry.
January 3rd 2018
New trailer delivered by Mitch and Ed on January 3rd. Gert, Ed, Mitch and others placed the tank onto the trailer on Sat. Jan 6 and the installation and hook up work began.
December 16, 2017
Big tank you to Gert who cleaned off the older decals and polished up the fish transport tank. Inspectors, Larry, Helen & Shane assisting Gert.
December 13, 2017
Thank you to some kind elves (or salmon) who decorated a tree outside the hatchery.
December 1, 2017
Members weighed a sampling of Coho fry. Average of 9.31 grams. These are salmon eggs from Fall of 2016. Fry reside in the rearing pond until May/June of 2018. Bruno, Duncan, Vlad & Terry. Jasmine & Duncan photo 2
November 26, 2017
Families from Hope Lutheran Church toured the Hatchery
November 22, 2017 - Students attending a tour were able to watch a Coho egg take. Photos 1 & 2
November 25 - Members Duncan, Vlad, Mitch and Bruno getting ready for another Coho Brood Stock take; Nettng in the creek (Mitch, Bruno, Shane, Helen Duncan); Large netted Coho (Duncan & Shane
November 19 2017 See Salmon Festival Page
November 11, 2017
Due to low water levels in creek members netted Chum and Coho at the pump station pool on Cedar Drive. Then the fish have to be trucked back to the hatchery. Rains have since arrived and water levels are returning more to normal. Members Shane, Duncan and Brad and others were there to help.
November 4th 2017
Thanks to all the volunteers that helped with the fish take today. Made the day a success!
November 1, 2017
Thanks to Gert, Terry, Mitch and Helen for removing a dam of large logs, branches and more. Big thank you them for hours spent cutting and and removing. Resulting in passage for salmon in Hyde Creek.
October 14th 2017
Mitch, Terry and Duncan working at culvert entrance.
Without volunteers, our salmon wouldn't have such a great habitat!
Thanks to everyone who helped with the culvert.
October 12th, 2017
Duncan, Shane and Gert working at culvert. Chum salmon are in lower Hyde Creek waiting for rains and higher water. Large pool is a resting place for the spawning coho and chum salmon who will continue their journey through the culvert and up to the higher areas of the Hyde Creek watershed to spawn.
Sept 25, 26 and Oct 6th
12 volunteers came out to work on a stream monitoring project for the Pacific Salmon Comission doing invertebrate sampling workshops. They were looking for a space to bring samples and use their microscopes for identification. HCWS was happy to accomodate them with our classroom space.
Thank you to Gert for being the liaison with the group.
September 2017
Members repaired and replaced the water intake system
September 23rd 2017
The City repaired the culvert going under Coast Meridian Road. Our water intake system was removed for the repairs, and replace on Sept 23 by our members.
September 2017
(left) Great turn out of volunteers help with coho fish fish weigh.
(Below) Large net needed to collect sample coho from our pond
Fish weight came out to fish weighing an average of 7.49 g each
September 2017
Mic works on the water system oxygen and water flow equipment.
Sept 23, 2017
Scout group with members Susan and Terry marked storm drains in Coquitlam.
Cleaners find display system
Sept. 9th, 2017
More clean up uncovered an item which appears to be a partial display system.
Left: Shane, Bruno, Vlad, Andy, Terry
August 26, 2017
Bruno, Carol, Linda & Marianne set up our display at Port Coquitlam's Canada 150 Celebration at Lion's Park.
Bicycle visitors tour the hatchery.
New Work Bench completed. Thanks Andy.
Fish fence to keep fry back from creek pond during culvert work and pond clean out.
August 24, 2017
Scott, Community Advisor and Tyler, Technician install new chiller and uv equipment.
Aug 19, 2017
Thanks to Ed, Ray and Larry for working at the BBQ and officially cutting the cake! Evening was a lot of fun, great company & the food was terrific.
August 14, 2017
Congratulations to Scott Ducharme of DFO in his new position as Community Advisor. Maurice Coulter-Boisvert retired in June. Welcome to our new DFO Technician, Tyler Thibault.
Fish weigh took place with Tyler in attendance. Average weight of our Coho fry in our rearing pond is 5.688gms.
Aug 12, 2017
Summer creek work removing snags and debris in Hyde Creek. Dams can form during storms and block access to spawning beds. Brad, Bruno, Ed, Vlad, Terry, Mitch, Gert (and Shane) cleared a number of spots along Hyde Creek. Before & after photos of one larger clear out.
July 29, 2017
Donated tools and equipment from member Marion Patterson are being sorted by Gert, Bruno and other members. Andy is building a new work bench for the new items and is helped by Vlad.
Creek pump water intake pipe was given a cleaning and overhaul by Ray.
Landscaping of our site is underway big time. Thanks to Brent.
July 22, 2017 Busy Saturday mornings
Fish Transport Tank (new to us) now on site. Thanks Mitch, Ray, Terry, Vlad and Shane for transporting and unloading of tank.
Yearly testing of emergency water supply by Shane, Ray, Carol, Mitch & Helen.
Impromptu tour by Bill.
Repair of pump at the work bench, by Gert & Shane. Many other projects underway!
July 17th, 2017
Minnekada Summer students visited our Education Centre. They are attending food prep and cooking classes with Adam Jonas.
July 15th 2017
24 members and guests came out for a fun social evening. Many interesting and scrumptious dinner plates to choose from. Great July weather!
June 27th, 2017
11,000 Coho fry were clipped by members and Mayors and Councillors of Port Coquitlam and Coquitlam. The fry are clipped for DFO data and sport fishing identification. Mitch was the top clipper of the day.
Coquitlam Volunteer Appreciation
June 25th, 2017
Members attended an afternoon event of networking, viewing displays and a wonderful slide show of volunteer work done in Coquitlam.
Although our Education Centre & Hatchery is located in Port Coquitlam we work within the Hyde Creek Watershed which includes Coquitlam. Tours & classes at our facility are attended by SD 43 students along with other schools and private groups.
June 24th, 2017 (and many more days)
Work continues thanks to the many talents of our members and the funding from Coquitlam.
Safe travels to member Bent, who is on a North American adventure.
New Predator Net Installation
June 17th 2017
A new net was installed over the new wiring.
(Right) members helping with installation of new netting.
(middle-down) The little girl picked up most of the float metallic paper that got left on the ground. She's the niece of members Melissa and granddaughter of Dave.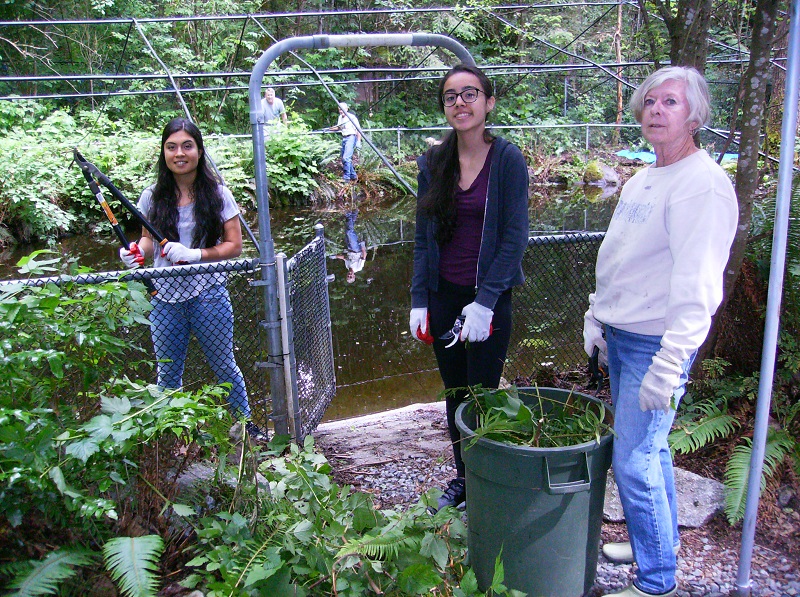 June 16th 2017
In preparation for the net set up on Saturday members cut down interfering vegetation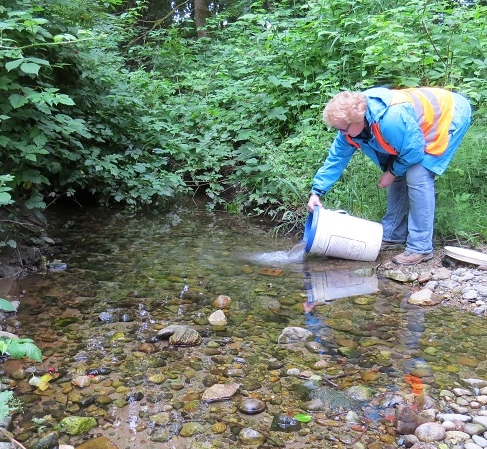 June 13/14 2017
Evening releases of the Coho Fry were done on June 9 into Partington Creek, June 13 into Hyde and Smiling Creeks and June 14th into Cedar and Watkins Creeks.
4 new visitors joined our members. Interested residents watched and asked many questions. A few curious children were keen to see the fry in the travel tank.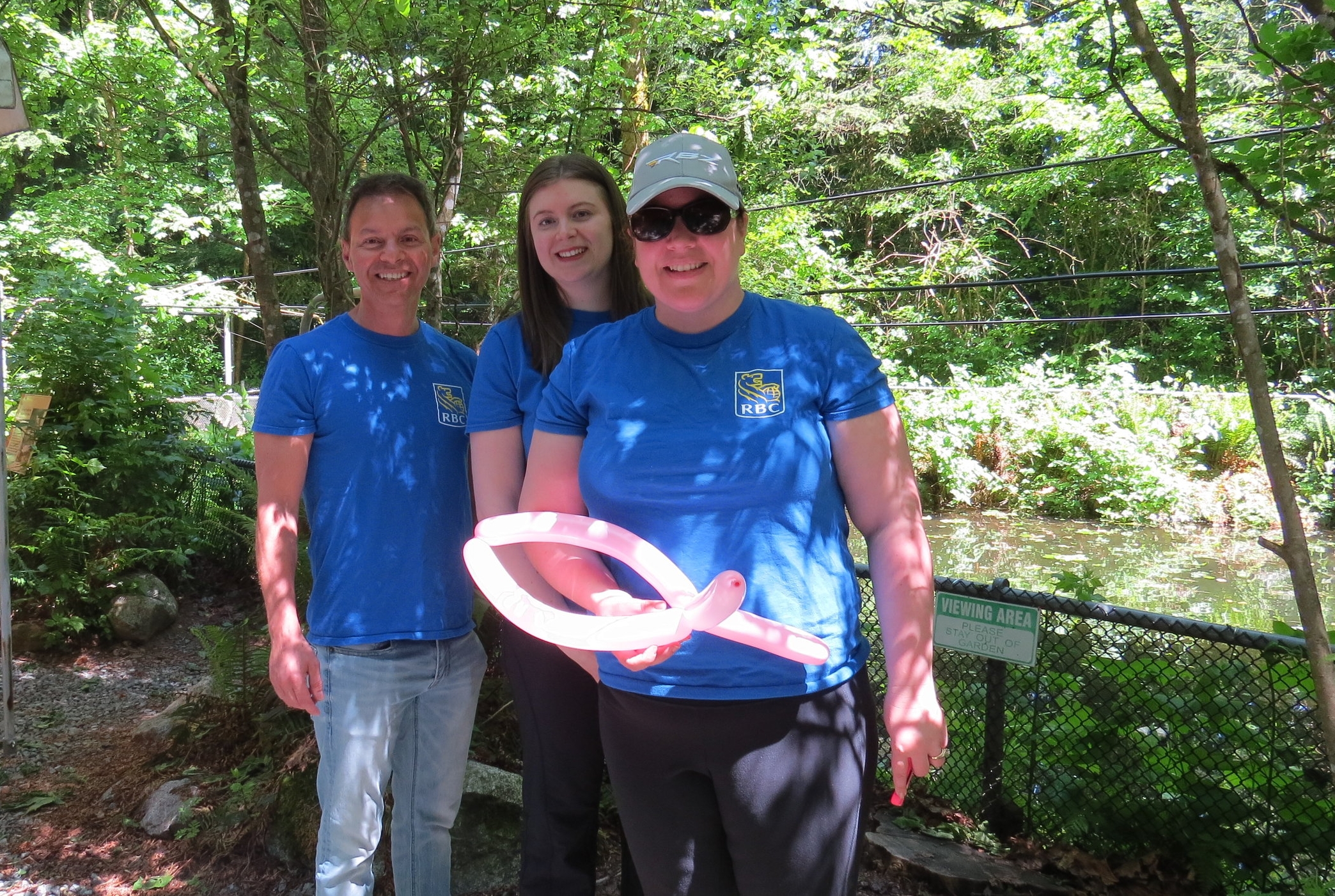 May 25th 2017
RBC Help with Smolt Release. Thanks to Serena, George and Jen for helping us move salmon smolts from the rearing pond to mouth of Hyde Creek. Due to summer drying sections of the creek in recent years, smolts are not released at the hatchery.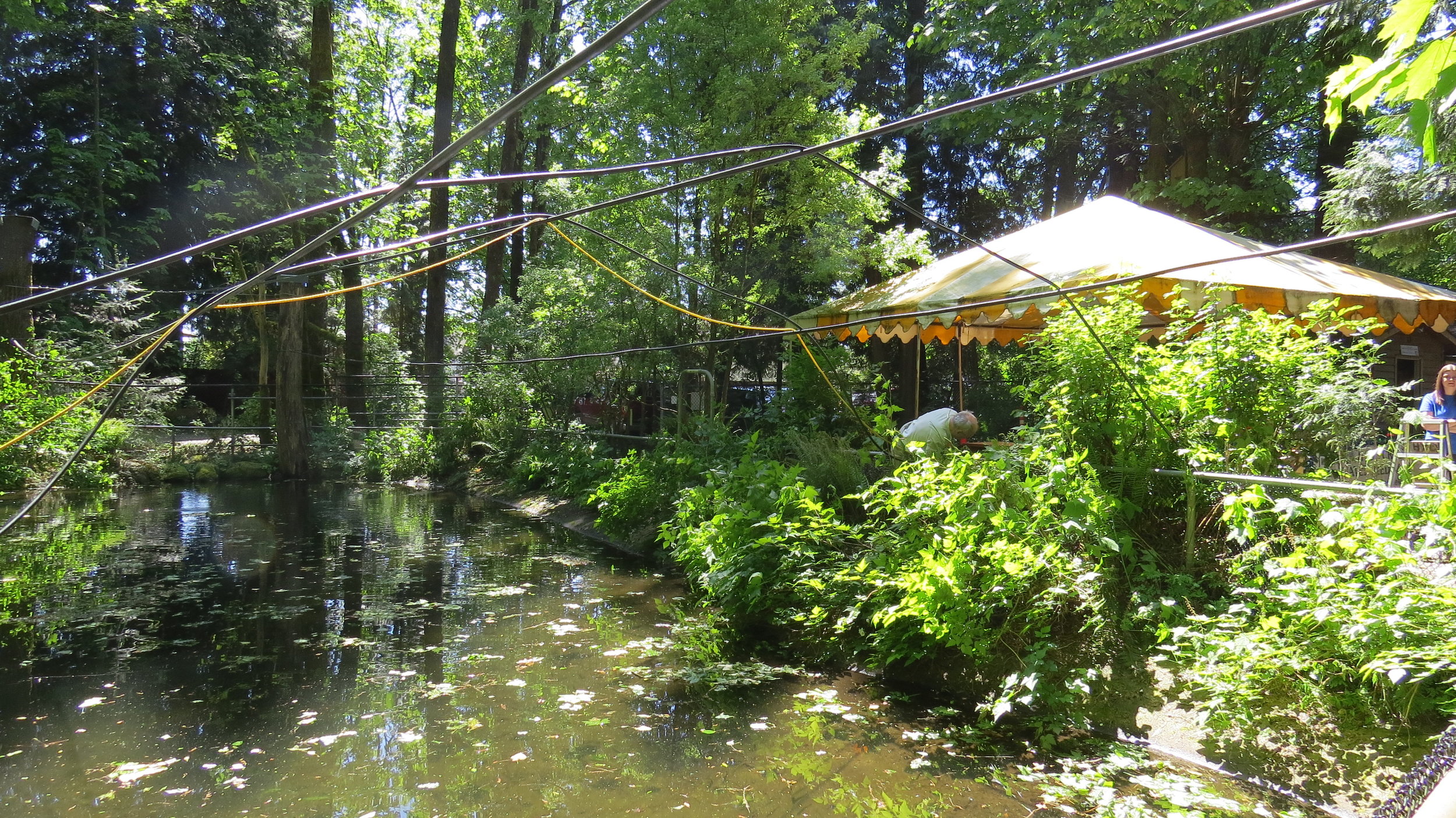 May 25th 2017
New cables installed and old netting removed. Thanks to members and Coquitlam grant.
May 20th 2017
Members attended the weekend conference and networked with many hatchery groups and other "fishy folk". Workshops were excellent and much information was collected. A side trip to Bakerville on Sunday.
May 13 2017
The day began with showers. By parade time the sun was shining and another great event. Thank you to the members and students who came out to set up and walk in the parade.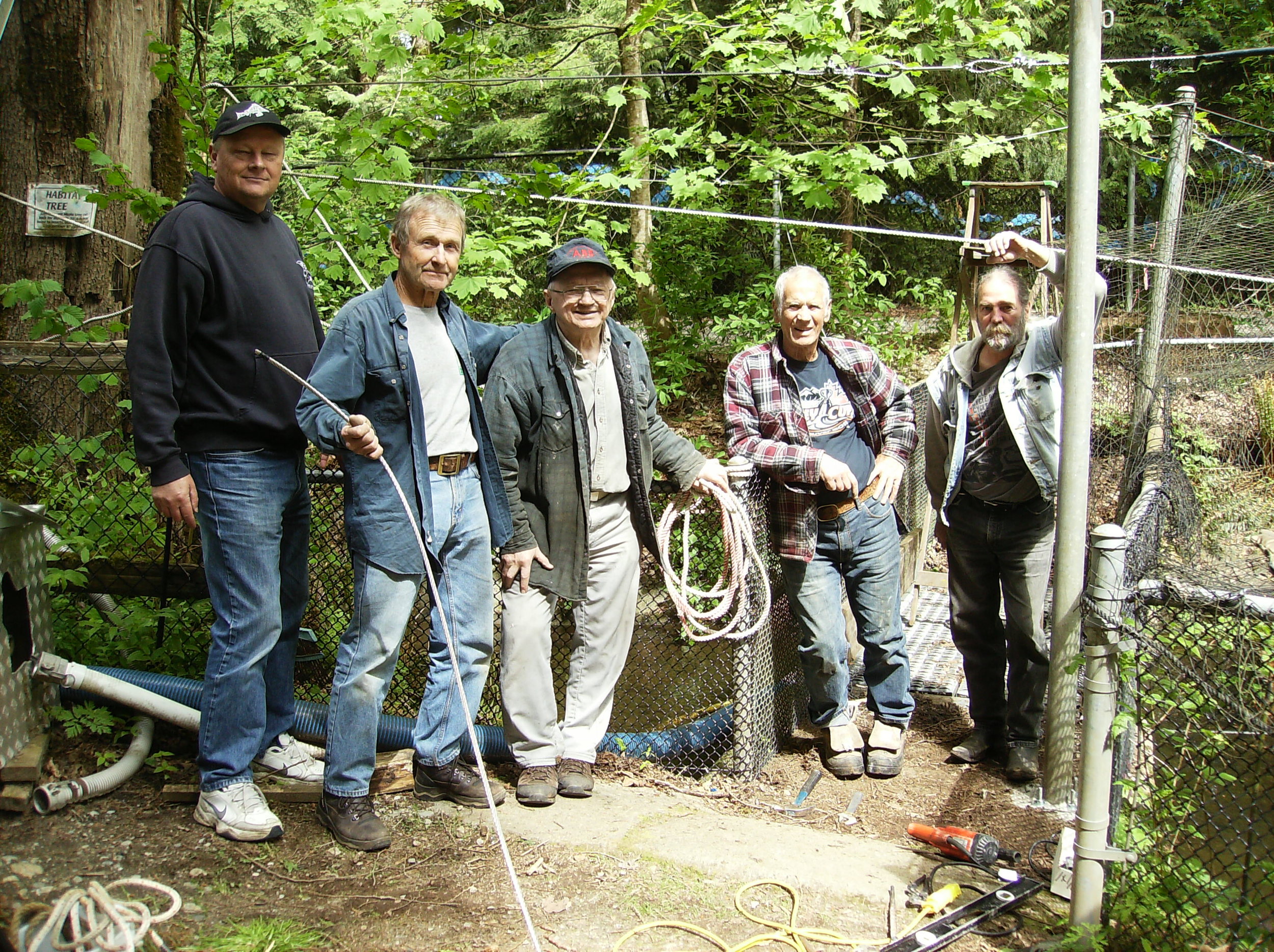 May 11 2017
Thank you to the City of Coquitlam for their generous funding to allow us to purchase predator netting and cabling, pond aerator, pond recirculation pump, cyclone filter, 1hp chiller, uv sterilizer and canopy for outdoor class.
The project is underway and members are currently replacing cables.
(Left) Mitch, Shane, Gert, Cameron and Andy
April 22nd 2017 - Open House & Salmon Release - see Salmon Release page for photos.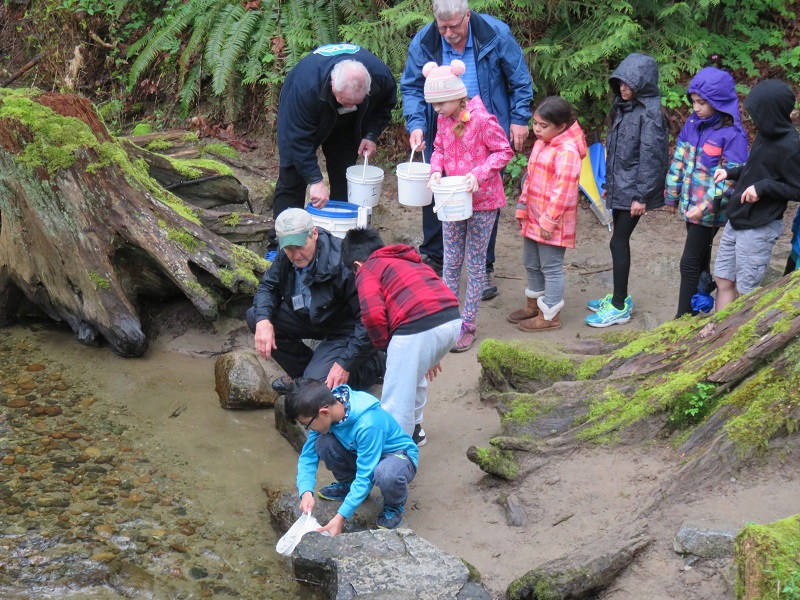 April 19th 2017
7000 Chum Fry release by the Grade 4/5 students from Central School (Mr. Huston and Mr. Exley's classes) who came out for a tour and volunteered to move the chum from our trough tanks into Hyde Creek. Congratulations for a job well done.
April 8 2017
Second fish weigh of Coho in pond. Average weight of 17.92 grams. Saturday visitors help feed the "new" coho who are weighing in at 0.7123 grams.
April 1 2017
Members "ponded" chum salmon from the hatchery egg room into the trough tank. It's a slow process as the salmon move from their incubation tray. Lots of rain in March and creek work is necessary.
(Left) Mitch and Gert replacing sand bags.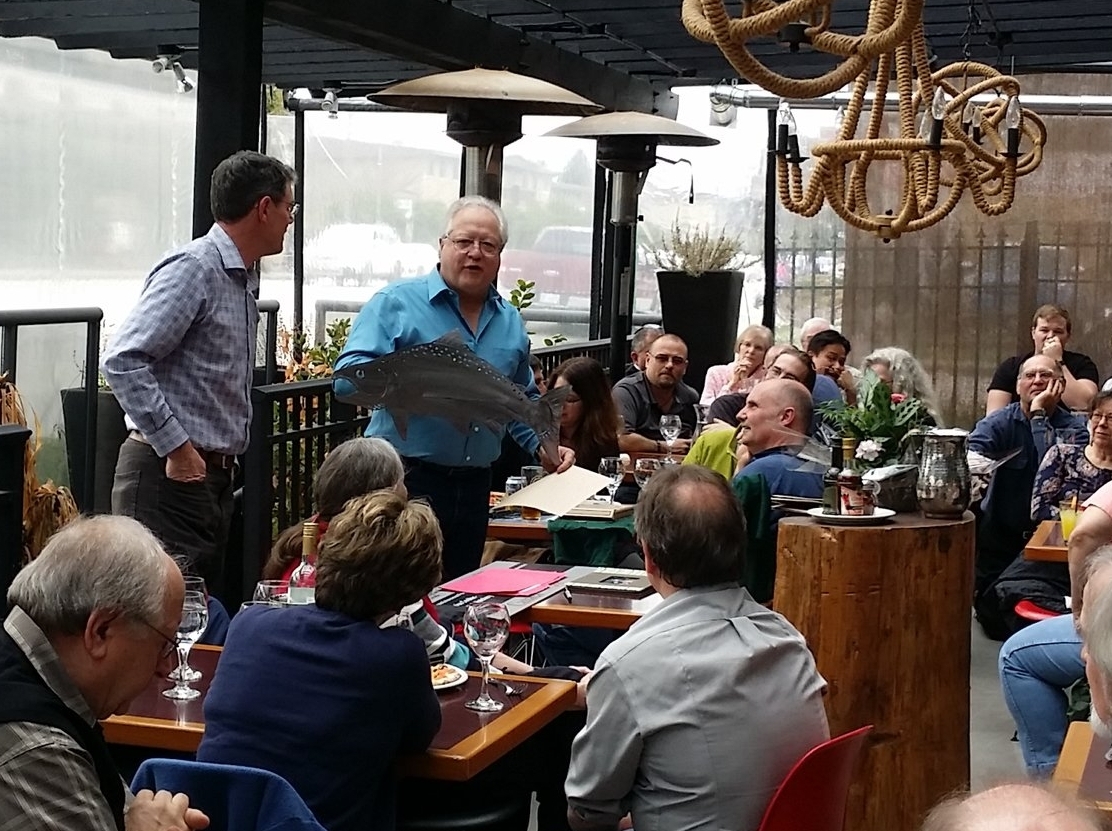 March 31st 2017
Maurice Coulter-Boisvert, DFO Community Advisor, retirement. Maurice was with DFO for 38 years, and was an integral part in assisting us as Hyde Creek Streamkeepers and then as Hyde Creek Watershed Society. We're all hoping Maurice will find time in his retirement to keep an eye on our hatchery.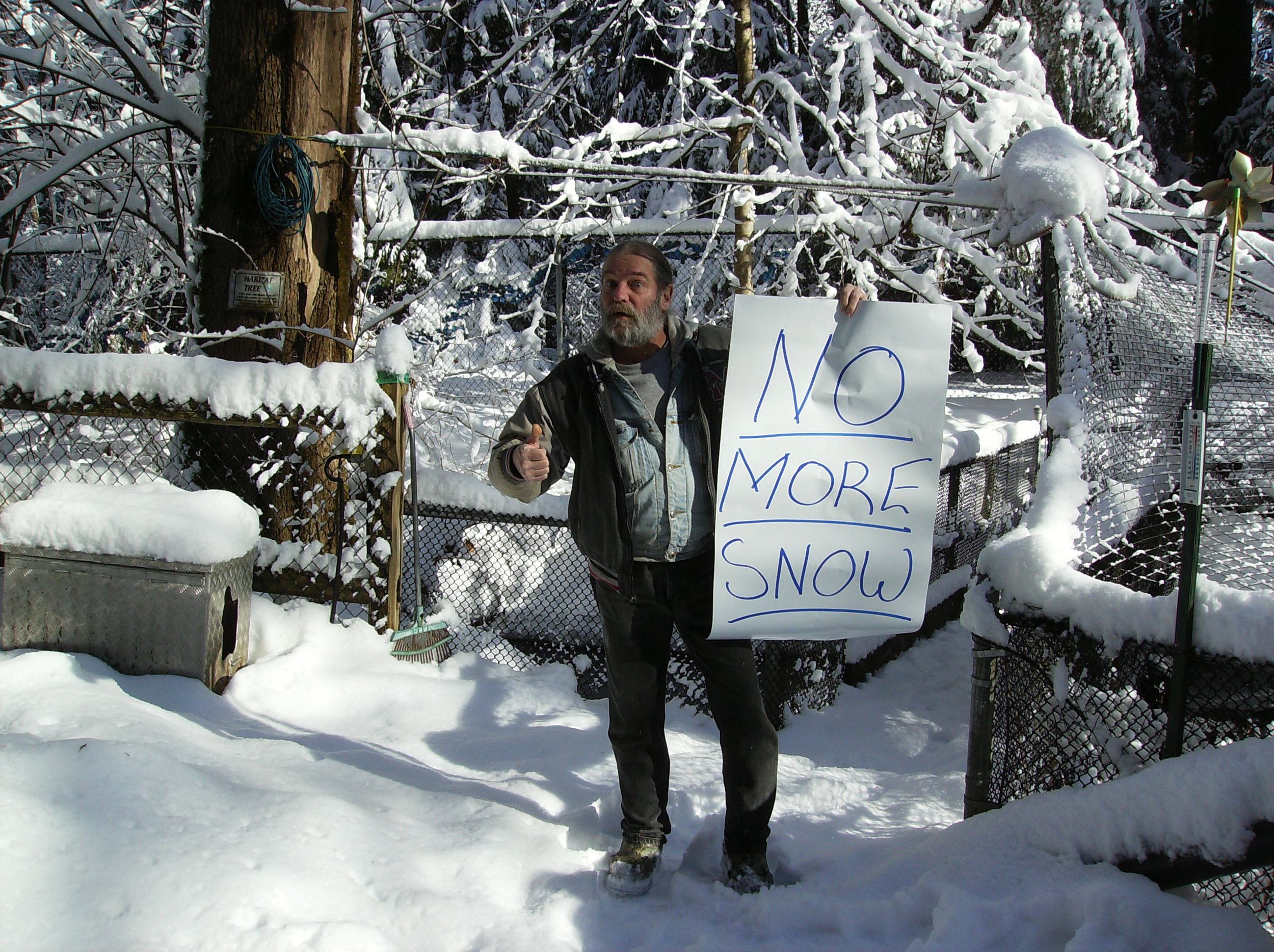 January/February/March 2017
Winter months were pretty but lots of extra work for members
February 18th 2017
Members weighed coho from the pond. Average weight of fish is 15.402 grams. In the egg room the Chum and Coho eggs continue to grow. Thanks to all the members who monitor the egg process. Bent Pedersen, Mitch Rasche, Mick Hunt, Ray Melville, Tara McBryan, Ian Barrie, Ed Beye, Paula Soto, Bill Christie, Doris Wilcox.
January 7th 2017 - To wind up 2016 members were busy chasing an interloper mallard from our pond. Twice he managed to sneak in. More netting repairs solved the problem.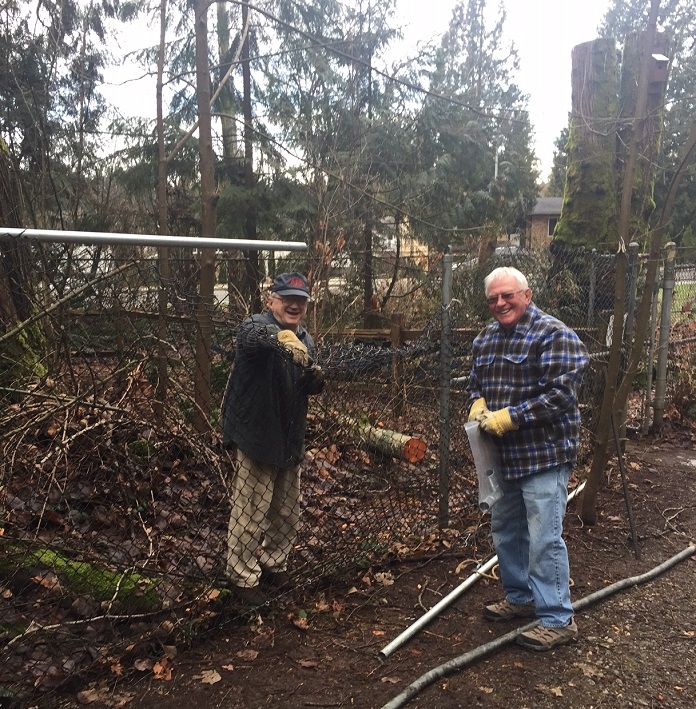 January 7th 2017
On Sat. 7th a cottonwood tree fell damaging our fence. Thanks to the members who helped with the clean up work and the temporary fix to the fence. Gert, Mitch and Ed in photos